Borzoi Coat Color Resource Page with Examples
Version alpha 1.1 April 15, 2003, This is not a finished project, check back soon.
BCOA Coat committee Chair:
Patti Neale
Coat Color Committee members:
Valorie Trantanella
Bonnie Dalzell

Web page created by Bonnie Dalzell - unless otherwise credited, text and images copyright 2003 Bonnie Dalzell. License is granted for this page to be reproduced for educational purposes provided all credits remain intact.
Welcome to the Borzoi Coat Color Education Page. This page contains information from the Borzoi Club of America Coat Color Committee.
As of the version date above, this page is incomplete and I (bdalzell at Q I S dot net) would be happy to use dogs other than the ones here to illustrate the colors. For further information on submitting pictures go here.I went with these dogs because the photos are mine so there are no copyright problems associated with using them. I encourage other people to submit pictures for use on this page!. One of the missing sections, which is very important is the "color plus Sable" dogs as opposed to the "Sabled plus color". I also need good pictures of a 'mahogany red'. I also need pictures of heavily ticked dogs and examples of dogs with a variety of different spotting patterns
The Color Committee recommends the following colors to be used to register Borzoi. Combined with the 9 markings, the vast majority of Borzoi can be adequately described. Fanciers need to realize that the AKC sets down the ground rules, which are that each breed can have a maximum of 30 colors and 10 sets of markings. Up to 18 colors and 10 markings can appear on the individual registration application, with the balance of the colors being posted on the AKC website and also being available by request to registrants. We cannot change these basic ground rules, we have to fit our great variety of colors into a this format.
Selecting the image produces an enlarged view in another window. Close that window when you are through with it.
Example pedigrees with colors of dogs included will eventually be part of the project.
Markings
Black Mask

Black mask is a dominant gene inherited independently of the main color locus and of the dilution locus. In dogs in which black pigment can occur it will be black, but a dog with maltese blue dilute [dd] will have a maltese blue mask and a dog with brown dilute [bb] will have a liver-brown mask. Dogs with extesion yellow [ee] will not show a mask even if the gene is present for it. The presence of the dark mask seems to be associated with intensification of progressive sable overlay as the dog matures. In addition black may be more strongly developed on the ears, around the genitals and along the "mane", on the top of the tail and in the shoulder region.
I have never seen a "Silver Sable" Borzoi or a Domino Afghan with a Dark Mask. When a dog has the progressive greying gene the Dark Mask area of the face is affected more strongly than the other black areas on the face.


Mininal Black Mask in a brindle puppy with light red base color.

The same dog as an adult Black mask has faded. Photo copyright 2000 Donna Maharan

well developed Black mask is often associated with black ears.

black mask tan or light red

Black mask in a young adult ay red Borzoi.

The same dog as in the picture to the left. Here the black mask has greyed with age while the red is hardly faded at all

The same dog at 14 the black mask is almost completely white.
Spotted on white

This description is to be applied to dogs in which the amount of white varies from almost all of the dog through the dogs that are not quite 'mantled" with color.


Extreme White Spotted This is an example of a dog that is Red Spotted on White. This is the extreme white spotting.

Red Spotted on White This is the other side of the dog to the left. Such assymetry in spotting is fairly common in Borzoi.

Brindle spotted on white This dog is more heavily spotted.
White Markings
This is the white marking description to be used with dogs that go from being mantled to having no white neck ring.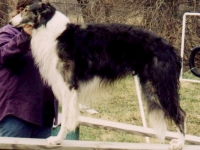 Sabled Cream Brindle, white markings, black mask at 6 years of age. Photo copyright 2001 Sandra Moore
White Trim
This is the white marking description to be used with dogs that have white bibs, feet, small blazes on the nose, and white on the underbelly. I have never seen a solid color Borzoi who had absolutely no white on it.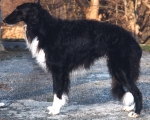 Black white trim. This is a dominant black Borzoi.
Ticked

Ticking is a dominant gene that expresses itself progressively as the dog matures. Ticking can only be seen where the dog is white. A white dog with gold or cream spots may have ticking but the color will not be visible in the coat although dark pigmented spots will be seen on the skin. When ticking is present it seems to be expressed more strongly in dogs with darker coat colors. In general the dark hairs will arise from the center portion of the dark skin spot and there will be a rim of the dark skin spot that produces white hairs. The center of dark hair production seems to take a greater proportion of the skin spot in a dog with black coat color than in a dog with red or cream coat color.

I believe that in their recently revised standard the Russians decided they did not like ticking, for no reason that I can understand. However the presence of ticking decreases the amount of 'missing' eye rim, nose leather, lip rim, toe nail and pad pigment in spotted dogs, so it is very common in American Borzoi lineages. In "white dog" lineages, which are basically spotted dogs with pale cream coat color, it remains invisible until one of the white dogs is bred to produce dark spotted dogs.

From a functional point of view nails and pads that have dark pigment are stronger and more resistant to tearing in dogs doing heavy work. However this also means that black nails are more resistant to wear in dogs that do not do a lot of work and may need to be trimmed more often.

Solid colored dogs can have ticking and it will never express itself because it is only visible in the white areas of the dog.

I think the prejudice against ticking is unjustified and because it is invisible in dogs with pale coat color, it is unwise to make it a undesired or disqualified marking.


Ticking develops with age, this 10 month old dog shows some ticking.

Here is the same Borzoi at 4 years of age. I have enhanced the contrast to show how extensive the ticking has become.
Darkening With age

Brindle on a light red base color, 9 mo old.

The same dog at 6 years of age. Photo copyright 2001 Sandra Moore

Paled ay red at 8 months of age.

Same paled ay red. This dog has darkened in to become a sabled cream or perhaps fawn. The color of this photo is more accurate than in the puppy photo where he appears redder than he was. as a mature dog, he has developed a sable overlay.
Photo credit Copyright 1990 Donna Maharan
Brindle
Brindle patterning is inherited independently of the other colors. Brindle places dark stripes where the dog would be red or paled red. It is not influenced by counter shading and the intensity of the striping may be somewhat random. Where a dog is black the brindling does not create light stripes. Sometimes 'ghost' brindle stripes can be seen on a black dog in full sunlight.

Brindle also called "grey brindle".

Cream Brindle photo credit copyright 2002 Steve Surfman

Red Brindle stripes are more distinct when the coat is short. This black masked pup has relatively few stripes.
Black and Tan, Black and Cream
also called tan point or 'at'
Black and tan is a specific expression of a gene recessive to red on the A locus. Generally they are called black and tans. However the tan can be diluted to pale cream or even white and the black can be changed to maltese blue or chocolate so it is the distinctive contrasting pattern that is inherited not the exact color. It is beyond the purpose of this page to solve the problem of a better name for this A locus pattern in dogs.

Typical black and tan color. This gene accentuates the counter shaded color pattern of wild canids into areas of sharp contrast. This dog has intensly red 'tan' regions.

Black with medium tan markings

This dog has medium expression of the tan. Notice the sharply demarcated line on the cheek between the black and the tan color. This is characteristic of at .
Here is a dog in which the tan is paled to cream but the black is not diluted.

A side view of the head of the dog with the paled out tan and intense black.
A side view of the head of the dog with tan completely washed out and intense black.
Dominant Black

Dominant black littermate to the "Typical Black and tan colored Borzoi" above.

dominant black Borzoi with irish white markings
Dominant black is a black in which, in the absence of white markings and greying, the dog is black to the toes and does not show the sharp bicolor marks on the cheek seen in black and tans. It is called dominant black because a dog bred to an ay red (as the the sabled reds below) will produce black dogs without tan. In fact black dogs will appear no matter what the color of the mate. Since the dominant black can mask (ie carry) ay red or black and tan (at), a dominant black dog can produce colors other than dominant black, but a heterozygous dominant black will still produce roughly 50% dominant black pups. A black and tan dog bred to an ay red will only produce black and tan dogs if the red dog also carries the black and tan allele. A confusing occurance is that some of the dominant black dogs can produce 'chinchilla' colored pups [see next set of pictures] but the 'chinchilla' dogs, if bred to reds or black and tans can produce dominant blacks. It appears these are a dilution or paling of dominant black but that this paling is not produced by the maltese blue [bb] locus. This is an old color in Borzoi, I have seen pictures of some from before 1940. Traditionally they have been called Silver.
Silver also called Chinchilla and Argent

Shortly after I started breeding from my first dominant black Borzoi we got not only maltese blue [dd] dilutes of the dominant black (like a blue Great Dane) but also we got "salt and pepper" greys which has been called various names, Silver, Chinchilla, and Argent being the most popular. A similar color is seen in Afghan hounds that have dominant black littermates. In Afghan Hounds this color is called 'blue' but Afghans do not have the maltese [dd] gene which is present in Borzoi, so to call these dogs blue would created confusion.

These dogs are not maltese blues [dd], their nose leather is black, not dark blue, and the eyes are normal in color with brown tones - not the paper bag brown seen in adult dd dogs. The eyes are not light blue in puppies. These dogs tend to be darker and less salt and peppered on the back and lighter on the face and upper legs. However if they have color down to the bottom of the feet the lower legs will be darker, in contrast to what is seen in Black and Tans, Silver Sables and counter shaded reds. Since the color does not have to be associated with grey noses and blue turning to paper brown eyes, it is a popular color for those people who like a silver Borzoi and it will probably not be a rare color in the breed once people figure out how to breed them, so I think we should have a name for it. The dogs vary from fairly light to almost black in color. The dogs may darken with age. As young pups people may think they have the diluted out cream and tan version of the black and tan but by 5 months of age or so it becomes obvious that the dogs lack the distinct sharpness of the boundaries seen between the black and tan colors in "at" dogs and unlike the Silver Sables, the muzzles are dark and there is no dark "widow's peak' marking on the top of the head.


Silver Borzoi at one year of age.

The same Silver/Chinchilla/Argent dog as a young puppy. The color above the eyes and in front of the eyes is different than that seen in the Silver Sable puppy.
This is the first dog of this color I saw in the flesh. I, Bonnie Dalzell, was his breeder but he was used by Audrey Mulligan to found her lineage of Silver dogs. His father was a silver brindle and his mother was a dominant black. He had one littermate who was maltese blue [bb] dilute of dominant black spotted on white. The balance of his litter mates were dominant black.

Silver, Chinchilla or Argent, same dog at 3 years of age.
Photo credit Copyright 1986 Donna Maharan

Silver

Silver

Silver

Close up of Silver Showing mixture of light and dark hairs, dark muzzle and lack of distinct boundaries between cheeks and top of head as is seen in Silver Sable and sabled red.

The same Silver bitch at birth beside a dominant black littermate.
The only drawback in calling this color Silver is that when the dog has red intensification factors, the color looses its clear silver aspect and red tones emerge. An example of a Borzoi with the red undertones is on the right. This bitch belongs to Vanessa Johnson, Mufasa Borzoi.




Blue [Maltese Blue]

Blue dilute Silver.

Note the Blue Nose in the dog on the right. In the center is a Silver and to the right a dominant black. These dogs belong to Vanessa Johnson, Mufasa Borzoi

Eye color of a Blue Borzoi. This is a close-up of the eye of the Blue Borzoi from the left hand picture. There is an inner circle of very dark pigment around the pupil, only the outer part of the iris is paper bag colored.

Blue dilute dark Silver This puppy did not have blue eyes at 6 weeks of age but he does have the maltese blue nose and eye rims.
Submitted pictures need to be accompanied by a physical note or a scan of such a note stating that the copyright holder authorises (grants a restricted license) for the use of the picture on this Borzoi coat color website and any site that exaclty mirrors this set of pages, and in any subsequent CD produced by the author of this website, that might be made available containing these pages as they appear here, based on the website. Some people may prefer a CD because of the large numbers of pictures that are part of this project. The photographer credit must be included and will be published with the image. The name and titles of the dog, its breeder, owner, sex, birth and death dates will be published with the image if the person submitting the image wants this information published with the picture. An index of contact physical addresses, e-mail addresses or websites for photographers, owners and/or breeders of dogs appearing on the page and CD will be part of this project.
What this means is if you license the use of an image to this project (retaining ownership of the copyright on the image), you get a small free ad with contact information for both you, the photographer and other people associated with the dog. However, I do not promise, in perpetuity, to update the contact information if you keep changing addresses, etc. You will also have the option of obtaining a CD at production cost plus postage (this should be under $5 US). Where desired, a link can be made to a pedigree of the dog in the image.
These are the views I need.
Full dog, side.
Head, side.
Head, front
Unusual markings, detail.
If dog changed colors as it grew, sets of pictures of each stage.
Wherever possible photos submitted for this page should be shot with a digital camera and the colors should be natural, not shifted towards the red by early morning or late afternoon light. Although the final image displayed on the internet is around 640 by 400 pixels, best results are obtained from cropping down from a 2 megapixel or larger image. I would prefer it to get unedited images which have not been compressed. I will edit from there. This gives me the option to save out details to be displayed. I will be setting up an ftp site for those who have problems sending large e-mails. Check back here for details.